Okay, so we all know that um...I get bored easily. Especially with my hair (I dyed it pink remember?) and it's happening again!!!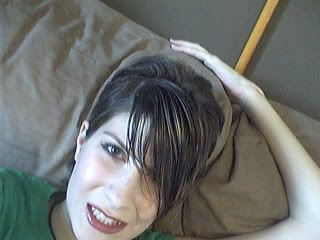 So...what do we think? Kiera Knightley again? Some fun/bold color streaks? Both? I dunno...I'm thinking longish side-swept bangs, chunks of blonde or red, super short.... Yeah. The problem is I can NOT seem to find a picture of exactly what I want. Okay, actually I have some but they are in a magazine, which doesn't help you at ALL. I want this back!! It looks super hot! But it was a lot of work to get it to stay that way. *sigh*
My stupid husband isn't here so I can't ask him what he thinks. Not that he'd give me a solid answer or anything. lol
Today is Jamie's birthday...and she hasn't gotten her present yet. Boo. Next Monday is Daniel's birthday. Let's see if I can get his Knucks to him before that. lol I mean, I haven't even finished the fingers of the second glove. Gra! Maybe I should jump off here and go do that. Yeah, that'll keep me busy for a second.