Oct 31, 2006
---
Boo!
I have no clue where to begin. It's Halloween! Which is good. Except there is a
show
I want to go to tonight,
badly
. The problem is that, I'm not sure we can get tickets. And well, it's Halloween and we have kids! Responsibility bites some days.
Yesterday, I was all happy. I finished Scott's hat, and most of Aunt Marcie's slipper socks. The socks though...disaster. One of the i-cords (I did two 20" long strips instead of one 36") fused to itself! Now I have to make another and re-full it. Also, the socks themselves need to go back in. They are 12 inches instead of 9.5! That was kinda upsetting. Really, I am not even posting pictures of it right now.
Let's get back to that hat, that might cheer me up. I decided to forego the earflaps and ties. Even though I had already picked up the stitches and knit the flaps, started the i-cord, they just looked funny. For the ears, I made them larger than
the original pattern calls for. Because it's a man's head and all. Then I just knit stockinette stitch, slipping the first stitch and making the decreases 1 stitch in for a fairly solid border. There was no rolling!! I used cotton batting leftover from the quilted bag I made for Secret Pal 8 to stuff the ears. Finally, I crocheted a bit around the edge. Click the picture for better detail, they came out rather nicely. Now I just have to mail it out. Although, it sucks I missed being able to get it to him for Halloween.
Once I got a few things off the needles, I cast on another pair of Knucks. Matty's this time. I still hate the yarn. And I have decided that it's the yarn and not the needles. Oh well. My brother owes me a picture of his! Kyle is getting his for Christmas, so those won't be up for a bit. I'm gonna give Matty his before he leaves, and
I'll
get the photo! Actually, I need to pick up a camera.
So, I'm sort of excited about making Bamboozelle. Mostly because the yarn is soooo gorgeous (I love Bamboo!) and I just bought a bead to put on it. It's a gorgeous glass bead, I'll have to give you pictures later. Just not feeling up to it. Still sick too. Yuck. Alright, well I need to get to work on these Knucks. Or maybe I'll actually finish the final cuff for Marcie's socks.
Oct 27, 2006
---
Project Overload!
Okay, so when I'm stressed (or bored) I get all crazy. Here is what I have done. I currently have
FIVE
projects going on!! My secret pal's HP scarf. Yeah, it's still not done. However, I just got the last hank of Cascade 9404 for it!! Which means I can finally finish it and get it out to her. I bought her a little present to go with it, because I feel
awful
about taking so long. Actually, I ordered it off
Ewe Knit Kits
because my LYS didn't have anymore. And uh, I...er...um bought a skein of Lorna's Laces? I had to! The yarn gnomes made me! Okay, fine, I succumbed to peer pressure. lol Nobody is perfect, right? She gave me a free tape measure too, which is cool.
Alright, so that's one. Of course, there is my mom's top. Which I am now convinced will be like my Cleaves. I've been knitting those for so long, I just stopped counting them as being in progress. They are on perpetual hold. lol I'm trying
really
hard not to do that, I want this thing done! And there will be hundreds of pictures of the completed work! Anyway, I'm still using the "my fingers
snag the yarn" excuse. Whatever works right? That makes two.
Project three, Bamboo ankle socks. They remind me of my favorite pair of jeans. The colors do, I mean. So I held my jeans up to the toes for the picture. If you look closely you can see some of my store bought socks, and you'll notice my affection for cute socks. Those I have just been working on every now and then, round here, round there. You know. My real goal has been finishing my Aunt Marcie's slipper socks. I just have to do the stretchy cuffs and a million inches of i-cord (okay,
36) then I'll be done!
One, two, three, four...one more.
Ah, that's right. Last night, in my frustration after casting on a few times to start that i-cord, I grumbled and put everything away in my knitting bag. At the bottom I discovered the black Cascade 220 I had wound into a ball for the Kittyville hat I'm going to make Scott. !
Instead of seed stitch, I did 1x1 ribbing. It looks slightly more manly, I think. For the ears I think I will do a garter edging and stockinette. If I can find some scrap pink, I might even make the insides of the ears pink. That ought to be fun
Oct 26, 2006
---
Recovery
I feel like I haven't slept in days! I've had a cold for the past few days, yet I went to the Social Distortion concert in Myrtle Beach. Now I am
paying
for it. We got back from the show at like 1:30 am, and Nolan was not in any mood to sleep. So I had to sit up and try to keep him quiet since Justin had to go to work early. Boo, Sergeant's course! Yesterday, I got to sleep for about half an hour while Kyran was taking a nap. And again, last night Nolan wanted to be awake while we were trying to sleep. His schedule is all thrown off. Now so is mine, I just want to take a nap!!
I think I'll go take one, or maybe just work on Aunt Marcie's slipper socks, I'm almost there....
Labels: life
Oct 23, 2006
---
My Blissful Chaos
Well, I have noticed that most (if not all) knitters are just walking disasters. I mean this in the nicest way possible. We (me too!) cannot seem to keep anything organized for more than ten minutes! Maybe we want to, and that's why we knit. It's so much easier to keep those stitches straight and orderly. My world has been immersed in chaos for as long as I can remember, the addition of children did nothing for my cause. lol
Needless to say, my house is always a bit of a mess. Things are put just anywhere without any real method to the madness. My husband is more of a neat freak than I, that's for sure. So, anything that is just mine (my crafts, yarn, sewing machine, etc) stays just the way it is, jumbled up and crazy! Last night, for some
crazy
reason, I decided I'd had enough! I sat down in front of my yarn basket, yarn bags, yarn bucket, and newly arrived yarn...my cleaning frenzy began! To begin I removed all accessories from the bucket, which included some finished projects, tissue paper, dyeing implements, and zippers. Next I dumped out my yarn bags and basket. All leftover/scrap yarn was put into the bucket for later use, all gross yarn that I'd probably never touch was put into a brown paper bag. I figure I can use it to teach Heather to knit. Finally I organized all of the yarns I'll be using for Christmas presents in the basket, so it is easily accessible as well as pretty to look at; and made sure to put yarn to all current projects in their appropriate bags. WHEW! I feel better.
Of course, I'd feel even better than that if I would actually finish a project. Ugh. So, I became depressed last night when I realized (halfway through) that the stretchy cuff I had been knitting for the slipper socks, was done wrong! I was supposed to be using two strands, but had only been using one. *sigh* FROGGER....
To make myself feel better, I started a pair of socks for myself with that Regia Bamboo. It's lovely to work with! Although...kinda splitty, as was the bamboo I used for my Cheshire Kitty hat. Still, it's one of my favorite fibers to knit with. The night before I finished the swatch for my mom's socks, though I think I need to do
more stockinette, who knows. If my mom had given me her foot measurements I would have started those. Let me just say, KnitPicks Essential is an absolute
joy
to work with!! Lovely feel and drape, I feel obliged to make myself a pair of socks with it now. Except, well I just ordered some Lorna's Laces. lol More cheering myself up. Only one skein (more ankle socks? maybe some gloves?) because I don't like to spend too much until I know that it is worth the investment. Seeing as how we are kinda strapped for cash. Until I deposit my check that is.
Yes! I got paid for that contract knitting I was doing! Woohoo! She paid me more than I had thought. She gave me a strange feeling though. Let me explain. There was a note along with the check, and it said:
Thank you so much for doing such a "beautiful job"...I've got some big changes occurring in my life that I need to tell you about and I want to talk to you about your knitting too. The technical editor mentioned a couple of things...I just need to show you because it will help you with your personal knitting and for any other work you do for me.
Okay, I took that word for word out of the note. Obviously I left out some of the details. But that is what it said, quotation marks and all. Is that strange? Or is it just me? Why didn't she just call me if she
needed
to talk to me? My phone number is on the note, so she still has it. Dunno. Odd. Whatever, I got paid!
Labels: socks
Oct 21, 2006
---
One Down
I squeezed in another day at The Tail Spinner, and boy am I glad. Of course I did a few more rows of mom's top. And I found a new excuse to not knit it. At the moment my fingers are dry and peeling. Well, the little bits of dry skin would snag the ever so sensitive yarn, how can I justify snagging the yarn?? lol Alright, so I just want to knit socks...sue me.

Speaking of, one giant slipper sock done! It is waiting for felting now, I started the cuff for it, and later I will cast on for the other sock. For now though, I am going to swatch for my mom's socks. Which she will most definitely get before that silly top*. Anyways, I picked out a cable and lace combination that will look lovely together. They seem to mesh well numberwise as well. It should end up being similar to the Baudelaire sock in construction, toe-up, cables and lace on the leg, etc. Although, I'm debating actually leaving the foot completely plain. Not sure. Mom might prefer to have nothing on the foot so that she can wear the sock with just about anything? What do you think?

Oh, and I love my LYS. It's awesome. Linda is awesome. She's one of those "You can do anything if you just put your mind to it!" people. And I love that. If you think you can't do something she will assure you that you can, even if she has to show you like 100 times, you will not walk out of that store without learning something.

*Note of interest: I always call it "mom's top" because I can never remember how to spell the actual name of the pattern...is it Baccarat or Bacarrat? Or maybe Baccarrat?? Who knows....
Oct 20, 2006
---
High Rise
Alright, I have been feeling ambitious! I have added a couple new things to my list of patterns and such to complete. First, I'll be finding a stitch pattern for my mom's socks, instead of just using the Hedera pattern again. It will be more fun to figure it out on my own. Next, I've been reading
Cookie's blog
and I love the
Södera
sock pattern
she has a link to. So, add those to the list! And last, but hardly least,
try this on for size
! Yep, that's right. I'm in a great mood and feel like I could replicate that no problem! I emailed a link to Linda at the LYS, she can help me with anything I'm unsure of. Yessss!
Okay, in other news, I'm really trying not to laugh at how HUGE the slipper socks are. lol Also...I made another 4 rows on mom's top! Way to go me!
Give yourself a laugh!
Oh...and PHOTOFest!! You can check the rest out on
Flickr
, but for now just enjoy the pick of the litter. Oh, tomorrow or whenever I have more time I'll make sure to go back and update old posts with appropriate pictures. Right now make do.
Oct 19, 2006
---
Triumphant Return
Okay...maybe not.

Justin got home yesterday. But um...he's been having a bad day. He was supposed to be off of work at 11:30, but didn't get off til 1. He didn't get back to the house til about 3:30 though. Some jerk ran him off of the road! How's that for a welcome home. Then...he had some crazy allergic reaction to who knows what. Had to drive him up to LeJeune to go to the hospital. In rush hour traffic. Super gay.

Anyway, Daniel's knucks are completed. Took me forever to embroider them...it was the stupid spade. And it still looks kinda yucky to me. But from a distance it'll look awesome! yay! So...the deal is I'm going to have everyone send me pictures of them wearing the knucks I made for them. I believe gloves and socks look SO much better worn. There will be no pics until then. Since, however, nobody reads this blog (at least nobody I'm related to) I will be posting pictures of my xmas projects in progress.

Um...still procrastinating on mom's top. OTN: Marcie's slipper socks!
Oct 18, 2006
---
Knitting at Tiffany's
Check this out! Every knitter will enjoy these.
Take me to Tiffany's
Oct 17, 2006
---
So...dyeing
Okay...okay. I said I was going to dye my hair. But I was distracted by
Dexter
! Blame it ALL on him!
So...we did Ky instead. lol Now he can be
Steve-o
for Halloween! I'm just about dying from his cuteness!
Still need to dye my own hair...and that yarn I meant to do like three days ago. lol Daniel's Knucks are almost done. Then I can get started on Marcie's slippers. Oh...and finish mom's top. *grins* Yes! Justin comes back Thursday! That means I can go by my LYS on Friday!! YAYYYY!!! I've got a ton of stuff I need wound into balls for knitting. Though, I'm trying not to wind up any sock yarn just yet. I need to get stuff done for other people first. *sigh*
Alright, off to finish Daniel's Knucks.
P.S. Okay...I totally forgot to mention that I got my bamboo sock yarn in yesterday! It's freakin awesome! Though, it's only about half bamboo. This kinda disappointed me slightly. Still...has that gorgeous bamboo sheen. Can't wait to use it!
Oct 16, 2006
---
Hooray for Hair!
Okay, so we all know that um...I get bored easily. Especially with my hair (I dyed it pink remember?) and it's happening again!!!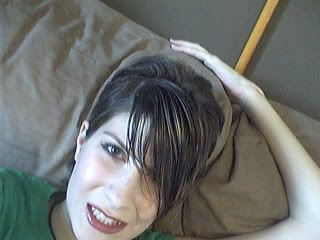 So...what do we think? Kiera Knightley again? Some fun/bold color streaks? Both? I dunno...I'm thinking longish side-swept bangs, chunks of blonde or red, super short.... Yeah. The problem is I can NOT seem to find a picture of exactly what I want. Okay, actually I have some but they are in a magazine, which doesn't help you at ALL. I want this back!! It looks super hot! But it was a lot of work to get it to stay that way. *sigh*
My stupid husband isn't here so I can't ask him what he thinks. Not that he'd give me a solid answer or anything. lol
Today is Jamie's birthday...and she hasn't gotten her present yet. Boo. Next Monday is Daniel's birthday. Let's see if I can get his Knucks to him before that. lol I mean, I haven't even finished the fingers of the second glove. Gra! Maybe I should jump off here and go do that. Yeah, that'll keep me busy for a second.
Oct 15, 2006
---
Sip, Sip, Knit
Okay...so we have Smirnoff Twisted Black Cherry that have been sitting in the fridge for months. I think that must have somehow affected the potency. Matty had one a couple nights ago and was talking about how he could feel it. Literally. He's not a lightweight either, so a Smirnoff drink should have done nothing.

Then I had one Friday night. Jeez...trying to knit after drinking this was like trying to walk on my hands! Very funny too. Of course, I didn't finish my Knucks that night because I was having trouble finding the stupid stitches in the first place. My hands already hurt because the yarn was a little rough (note to self: do NOT use Fortissima Socka for socks!) and the Clover circ I'm using is terrible. I mean, wool on wood needles...that's like hell on fire.

Sorry...having fun with all this. Anyways, I've forgotten how much I hate and love to knit with black yarn. It's hard to see what you're doing sometimes, but that also means your mistakes are less noticeable! SCORE! I definitely like the magic loop method better for these things. If you do any, I recommend using it.

Later, I plan on dyeing!! HURRAH! I want some acid dyes for Xmas. I want a lot of things for xmas. This time I'm trying something slightly different. I want a sort of mottled look. So I'm going to dye it with several different colors and use a spongebrush to put spots of colors on it. This will be my homage to fall and Socktober! It will be called Fall Foliage*. And then I'll use it to knit up a pair of Falling Leaves socks from Knitty. YAY SOCKS! First I have to start my aunt's slipper socks. After that I plan on doing my mom's socks...I'm still debating though. I might want to use the Hedera pattern instead of the snowflake one I got off magknits. Maybe I'll just keep that pattern to myself. :P lol I'm so stingy. Actually, I just thought it might not work with the blue? Dunno. Alright, back to my brother's (or Matty's) Knucks. 2 rows left on the first glove!

*As a kid we would go to visit family in upstate New York around late October. There was a great little hometown fair called the Fall Foliage Festival. Every year, the smell of crisp air and crackling leaves brings the taste of cider to my tongue and memories of this childhood tradition back to me. :)
Oct 13, 2006
---
Yarn = Yay!
Overdue Socktober-ing
When did you start making socks? Did you teach yourself or were you taught by a friend or relative? or in a class?
I started making socks about five months ago. I taught myself with some help from Linda at The Tail Spinner. Just picked a pattern and followed the directions.

What was your first pair? How have they "held up" over time?



They were Pom Squads in purple Sassy Stripes from Cascade. I haven't uh...actually worn them out because I did the bind off too tightly. *sheepish grin*

What would you have done differently?
Obviously the bind off

What yarns have you particularly enjoyed?
I love Knit Picks yarn, and Mama E's yarn. It's delicious. Going to try some Bamboo sock yarn from Regia. :)

Do you like to crochet your socks? or knit them on DPNs, 2 circulars, or using the Magic Loop method?
It depends really. I like the DPNs for lacy patterns, or when it divides evenly, and the Magic Loop when I'm doing two at once. That is usually for simpler patterns. I don't crochet them or use two circs though.

Which kind of heel do you prefer? (flap? or short-row?)
Flap I think. My short rows always look lame to me.

How many pairs have you made?
Hmm...3 for myself, 2 pairs of baby socks, and 1 pair for Jamie. So far, that's 5. I have 4 more in mind right now, 3 of which are Christmas presents.
Alright, so...I got my KnitPicks yarn!! YAY! I tried to hook up my webcam to take a shot for you, but can't find the installation software. So, you get another lame camera phone picture. I'll describe the yarns to you:
Wool of the Andes in Fern, Avacado, and Fog
For Dad's Mancala board
Essential Sock yarn in Flint, and Gulfstream
For Aaron's Knucks and Mom's socks
Palette in Pool
For Aunt Marcie's slipper socks
Telemark in Pesto
For Justin's Knucks
Merino Style in Cinnamon
For my Knucks
And two sets of DPNs, size 0 (2mm) and 3(3.25mm)
This was all very exciting to me. Now I just can't wait to get that bamboo sock yarn!! OMG! I'll pee myself...maybe...not really. I might just cuddle it. lol
Matty's (or Daniel's) Knucks are OTN right now. I know what I'll put on Daniel's.
All♠ Aces. What do you think? Not sure on Matty's yet, or Justin's or Aaron's for that matter. Alright, off to go work on those some more.
Oct 12, 2006
---
What Now Knuck-a
Okay...well I thought it was hilarious!

Anyways, I finished my first pair of knucks and have started my second. The first pair came out nicely enough, but I've decided to do the rest on one long circular. It makes things less awkward when I have to do the joining rounds. The pictures will come later (of course), I want to take pictures of them on their receipient. Gloves look funny without hands. This is my theory.

Got a couple more inches done on my mom's top today...still hating it. Something about the yarn just makes me loathe to get anything done on it. But I've been procrastinating for far too long. *sigh*

I've decided to join Socktoberfest!! Hurrah! On that note, I *gasp* have no socks on the needles right now! The Thuja socks were frogged a few days ago. Staring at them was starting to depress me. So I decided to start over again...from the bottom. In other words, I'm going to modify the pattern to be toe up. Not that it's that hard with this pattern. It's just a simple seed stitch rib. The real challenge is going to be the knee-high socks I wanna do. I've got NO clue how much yarn it will take. Good thing I've got narrow feet. What I intend on doing is using a pattern I got from the Arachne Sock Calculator, reversing it (it's cuff down), and combining it with the lace pattern for the Mock Croc socks from KnitPicks. Sounds like fun right?
Oct 9, 2006
---
Momentary Weakness
I got the new Webs catalog last week...they have *gulp* bamboo sock yarn!!! I had to! You can't blame me! It's an addiction, I know I need help.... Hey, at least I only ordered one skein. I'll make some ankle socks. They'll be awesome and I'll love them. Til they fall apart. Promise.
Still no computer for me. Right now I'm borrowing Matty's, he's been checking in on me since Justin has been gone. It's nice to have the company, that's for sure. Although I like being able to sleep on the couch. :D
Did I tell you I finished my Baudelaire socks? Oh, well I did. And they are gorgeous!! Just wait til I get my stupid camera back. (and computer) Now I'm starting my Christmas knitting. I'm about 7 inches into the front of my mom's shirt that I've been working on since um forever. lol Ordered tons of yarn. *sigh*
Though I think I'm doing pretty well as of now. There's still about $50 left in my account, and we get paid probably on Friday. Posey will pay me for the knitting I did for her then. That's about 70-75 dollars. Can't remember which she said. Totally not worth it. Money is money though! I'm hoping to stock some cash to buy a spinning wheel. :)
Oh, I finished the booties for Danielle. She had baby Mia on the 2nd, she's a
beautiful baby too! They'll love this stuff. :) I took a pic with my phone ... maybe I can figure out how to email it to myself so I can post it? Because I plan on sending it out tomorrow and Justin took the stupid video camera with him. Goof.