Jan 31, 2007
---
Dark Purple
Dark Purple

To others, you seem a bit dark, mysterious, and moody.
In truth, you are just a very unique person who doesn't care what others think.
And you really enjoy your offbeat interests and friends.
You've decided that life is about living for yourself - simple as that.
If you know me, that is FREAKISHLY accurate.
edited to add:
Your Daddy Is Johnny Depp

What You Call Him: Papito

Why You Love Him: Because he's your baby daddy
Hannah
sent that to me after I joined Fair-Isle February. :D
Labels: memes/blogthings
---
Motivation
It's strange, the things that motivate us. I made a pair of socks in seven days, and all because they were purple and didn't fit in with Project Spectrum's first color group. Today, I finished those slipper socks I started awhile back for my Aunt Marcie. All I had to do was sew the suede bottoms onto the second sock et voila! They're done and ready to be mailed off. Yet, I procrastinated, until I made a deal with myself that I couldn't work on Wicked at all today unless I finished them. Now look, we have a completed pair of socks and a WIP ready for my itching fingers.
Wicked has made more progress since I took these pictures, but that's okay. The colors just didn't come through no matter how many different times/ways I took these pictures. Don't worry, you'll be seeing it again. I'm using Cascade 220 "The Heathers" in color 2448. Every time I walked into my LYS I would see this particular color and think "This is so beautiful, I have to do something with it at some point, but what?". Yesterday I had an epiphany while drooling over the hundredth version of Wicked I'd seen. I was thinking to myself "Yeah, but what color would I use? It'd look great in a dark blue..." *ding* (that was the sound of my proverbial light coming on) At that point, I could not get the pattern out of my mind, I knew that I had to have it and the yarn. So, I bought the pattern, picked up the coveted yarn on my way home from Heather's daycare, and cast-on.
No, I didn't swatch. In my defense, I have used this yarn several times and actually still
have
my first gauge swatch, done on size 7 needles. Usually I don't BO my swatches, I'm cheap and will save yarn whenever possible.
You know that feeling you get when you a yarn is just perfect for a particular pattern? It's almost like they were meant for each other. Yep, that's me right now. And I think I'm going to get back to my knitting now!
Labels: happiness, knitting, progress, project spectrum, socks, Wicked
Jan 30, 2007
---
Ambition
So, I have decided a few things for myself over the next few months, knitting related of course.
First, I plan on making a pair socks a month and a sweater for every two month period, that would be one for every ProjSpec color group. It's my "Sock-a-Sweater-Two Me" deal. lol (look it took at least half an hour to come up with that, laugh) No, there's no official KAL, I just wanted to make a deal with myself, since the KFYS thing didn't go so well. ;) Second, I want to try as many new things as I can. So far on the list are:


Entrelac

Fair-isle

Steeking

Intarsia

Raglans

Ganseys

Lace Shawls

Shadow knitting

Argyle (which is really intarsia)

Spinning

Needle Felting
I'm also participating in a lot of things this year. As many as I can anyway. Right now, it's the Alpaca-along, Project Spectrum, Sock Swap, Manly KAL, and the Green Sock KAL. My plans are to join the Punk Rock Gift Exchange and maybe some other KALs throughout the year. Also, I plan on designing my own sock pattern and offering the pattern free through a KAL. That won't be until August-September time frame though. Oh, and figuring out that damned sweater from Craftster, the one that was designed to reflect the spine and whatnot. Yes, there's a link to it over on the sidebar somewhere. I
will
make this sweater this year. I'm thinking Bollicine Dolly, but I may go with Cascade 220 for financial reasons. UGH! I
have
to knit
Wicked
, such a simple pattern. Yet, every time I see it I fall in love with it.
Maybe I can fudge something similar...I'm having a hard time paying $6.50 for the pattern.
Okay, I just bought the pattern, in a moment of weakness I checked our bank account and remembered I gave him a $40 check to deposit from some bonds or something I had. I only spent like 15 of that...so another 6.50 won't hurt. It seems like only a bit, but really, it's about the cost of a ball of Cascade 220. I even know what color I want to make it in. That settles it.
On the spinning front, I will practice with my drop spindle until I figure out which wheel I want. That way I can still be spinning even without my wheel. I hate the drop spindle, but it's better than not spinning.
Labels: ambition, determination, KAL, planning, spinning
Jan 29, 2007
---
Show's Over
Yep, Hedera swap socks are finished! I finished them a little after nine, and that was with procrastinating. lol So, the question is, who won the bet?! Well, my original post was on the 23rd, so that makes today 7 days. Now the bets were as follows (I rounded any partial days up one, I consider a partial day a whole
day...fractions make my head hurt.):
Mean Bean - 4 days
Lesley - 5 days
Allergic Mom - 6 days
Adrienne - 8 days
Kucki68 - 9 days
Beth - 11 days
That makes
Allergicmom
the winner! Actually, my swap partner is the winner. I really love this pattern, and I cannot wait to do the knee-high version. Now that I've posted about these socks I think I'm gonna go to bed. Or maybe I'll work on those Harley Quinn socks. :)
Jan 27, 2007
---
What? Still Alive?
****PICTURE HEAVY POST****

Yep, I know some of you think I might have just thrown myself off a cliff. I assure you I'm still here. Not only that, I'm not the least bit worried about the socks. So
little so, in fact, that I've been lolly-gagging these past two days. Okay, not lolly-gagging exactly. I had my first spinning classes!
Yessir! It was FANTASTIC! I now definitely need a wheel. I'll get the feel of a few different ones first, but I will have one. Mark my words. Firstly, my LYS owner told me that I could knit something for her to make up the $25 that mom's gift certificate didn't cover. Heck, she may owe me at the end of it all. What a lovely idea.... So, my first day was spent learning to card and draft and use a drop
spindle. I just can't get the hang of that thing at all. I had to leave early though, because it was Heather's birthday and we were taking a cake to her school for a mini-party. Heather was elated. It was a great day all in all.
Today I got to spin on the wheel! I tried out different wheels (the one I used was a Kromski Prelude, though I'm probably going to buy something else), different fibers, different techniques. Linda showed us Navajo plying, how to use a drum carder...oh it was a wonderful day! And I came home with two little skeins of yarn! Right now they are hanging in the bathroom drying, and I may not make anything with my first yarn, just keep it around for sentiment. The second one has purple in it, you know
that'll be something. Even if I decide to felt it because it doesn't look perfect, it has a purpose. Now I really,
really
want one of those Sheep to Shoe Kits that
Kristi
has, even if I can't spin it yet. It'll be a nice thing to have and hope for. Before I buy a wheel I think I'll try out the different ones, spin on them, get a feel for them, consider my options...you know, make an informed decision.
I just don't know what else to say. Very exciting weekend. Bare minimum of work got done on the socks. Still, as I said, I have faith in myself.
Just because I've already saturated this post with pics and I'm proud of ALL the things I make. Including the babies. ;)
Labels: happiness, life, spinning, yarn
Jan 23, 2007
---
Frog Princess
Yep, that's me today.
So, here's the run down:
Hedera swap sock CO too tight. Must frog ENTIRE sock and restart. Going up a needle size, meaning the needles that my Endpaper Mitts are on.
Therefore, ripping Endpaper Mitts and inserting lifeline. Also going to Magic Loop it (since the needle size is perfect), which means METAL needles. We shall see how this works. *sigh* I might go crazy people.
I have 8 days to make a pair of socks. Are we taking any bets? Just to make it fun, you have until the 31st to post a comment about how long you think it will take for me to finish them (toes grafted, ends woven). Whoever is the closest without going over will win a skein of Crystal Palace Bunny Hop.
Edited to add:
I haven't actually bought the yarn, so if you are vegan or allergic, just let me know and I'll arrange a different prize for you. You are allowed to guess that it might take me more than 8 days, I won't be insulted. :)
Labels: accidents, contest, procrastinating, socks
Jan 21, 2007
---
Doublemint
Don't ask, just go with it.
So, this was a busy weekend and I feel I haven't posted much. Probably because Justin was home Friday and yesterday. Playing WoW. *sigh* Anyway, I've got tons of fun for you all.
Let's see, Friday I did finally finish off the yarn for my raglan. But I bought more on Saturday. hehe Yeah, I got a $40 check from a bond or something that my church had given to me as a kid. Actually, I ended up not paying for the yarn as Justin had my card. Silly buttons. Besides, it's not like I'm never going back there. So, on Friday I decided to swatch and start my
Endpaper Mitts
, well I wasn't liking the way the Lorna's Laces was looking with the KP. The dark spots were way too dark and blended slightly, making the whole thing look wonky. So, I was searching the shop and getting frustrated because the only sock yarn she had the I could use was the Fortissima Socka (previously used for Knucks) and I do NOT like this stuff. It's not comfortable to knit with. My LYS owner was watching me wander around with my face all screwed up, so she decided to assist. She asked what
other yarn I was using for the mitts, and I told her KnitPicks. Which I know isn't encouraging, but I am a young mother of three, single-income, money is tight. Besides, we just went over how her sock yarn collection disappointed me.
She picked out an enticing yarn on one of the big cones, I'm guessing it's for weaving usually, but it'll work. And, the kicker, I asked how much she was going to charge me for it, she said "Let's just call it a bribe." hehehe Alright, alright, I get the hint! lol Linda is awesome, seriously. If you are ever anywhere close to Richlands, NC you should check out her shop. There's a button in my sidebar.
Whew. I'm tired. Last night I went to Greeneville with my buddy Tyler and some of his friends. They're leaving for Iraq next weekend, I'm gonna miss Ty. :( We went out dancing. Anyways, while I was waiting on him I worked on my mitts some more. My decision for them went something like this, why cast on 60 sts to knit a swatch if the mitt itself only needs 56?! The cuff is the same for every size, so I figure I
can just put a lifeline in and if it doesn't fit, rip back and go up a size. Of course, I forgot to put in the lifeline. Silly me. Casting on was hell too, I did it about 4 or 5 times before Justin convinced me to put it down. We played WoW, my characters name is Raglan. hahaha Such a dork. Now I've done one whole rep of the 10 row pattern. It looks beautiful, except for where the joins are. Those spots look awkward. Gotta figure out what I'm doing and how to fix it.
My replacement needles finally got here, and I picked up the last ball of yarn
needed for my Harley Quinn socks, so I have WIPs to finish. Before I get more involved with those mitts I mean. My swap socks need to be finished, so they can get done before PS really gets started. Harley Quinn could squeak in, but I think I'll finish them before Feb without any problems. The sweater and mitts are very well suited to ProjSpec though, so I can wait until February til work on them more if need be. Do you like the glorified paper towel roll my replacement needles came in? Cute right. lol Eh, they were free, whose complaining?
I'm forgetting something, I know I am. If I remember, I'll let you know.
Labels: gratitude, knitting, LYS, project spectrum, socks, yarn
Jan 18, 2007
---
Why I love Bloggers
There is more to this post than I am posting now, have to run and pick up Heather, but for now
check this out
.
Okay, a little background on this. Deborah was my secret pal from SP8, which as you all know is far gone. Anyway, I'd been knitting this for her since about mid-July. I hate scarves, but this went all over with me, most of the progress was done while I was in the
hospital
with Nolan. At some point I ran out of yarn. *sigh* And I knew I would not finish in time. So I gave her
some other things
. It had a
magical theme
because the scarf was supposed to be there, but no scarf. :( You saw when I finished the scarf, oh last week. lol I was very upset, I hate being late, or overdue. I felt horrible. Still, she was more than appreciative and not only blogged about it but emailed me to express her gratitude! Which is just awesome.
Knit-bloggers are some of the most amazing, awesome people in the world. :) It's nice to have someone to chat with and to indulge in the guilty pleasures of knitting with. Thank you guys!
Labels: blogging, gratitude, knitters
Jan 17, 2007
---
We Have Yarn...Finally.
Yep, the KP arrived today! Hurrah! I have Alpaca Cloud in Sunlight (which isn't as yellow as I had hoped, and that's actually fine), Essential Solid in Dusk, and finally, some Palette in...Red. Yes, it's actually just red. lol Odd how I ordered the Alpaca Cloud this past Friday and the other two yarns on the fourth, yet they arrived on the same day. It really must have been due to sorting out all of those holiday orders. Which is good, I was almost disappointed in them. The yarn is still beautiful. And, affordable. :) The Alpaca Cloud will become that lace tee from Vogue Knitting, the Essential will join my Lorna's Laces Smoke in making
Eunny's Endpaper Mitts
, and the Palette will be my
LoveMeKnot socks
. The Dusk is going to look awesome paired up with
Smoke
, don't you think?
Alright, I came to a stand still on my two current projects. Ran out of yarn for the Harley Quinn socks and can't buy more til next pay day (so...far...away), and cracked another of the needles for the swap sock. It didn't snap all the way through, but I took it as a sign to knock it off. I could have started another pair of socks, or my Hug shrug as intended, but I didn't feel like winding a ball myself. Had I had a car I could have run to the LYS and wound some, but I didn't. *sigh*
Really, I tried to grab something not ProjSpec related. It didn't work. That Alpaca Seta I bought awhile back finally jumped into my fingers. "Just a swatch" I said to myself, "to keep my hands busy." Oh yes, my hands were busy alright. Busy casting-on! This yarn is delectable. Now, I'm hoping the
basic guidelines
I found aren't lying because I already have about two - two and a half inches done. My gauge was 26 sts over 4". It's odd how size 5 needles suddenly feel huge in my hands, even though the Harley Quinns are on size 6s. It's another perfect ProjSpec project too, without realizing it I used blue and white stitch markers. The only other ones I had were pink and I'm not that fond of pink.
According to the "standard" sizes on that site, I'm a child size 10-12! Except my sleeve length of course. That's just craziness. I swear, I'm not that small. Really. Am I? Oh well. Next pay day I will be purchasing more Alpaca Seta for this raglan, more CP Fjord for the Harley Quinns, and possibly a sub to IK! Not sure when I'll be paying the $25 for my spinning class, but the first one
should
be next Friday. Which is also Heather's fourth birthday. Alright, I'm going back to my raglan.
Labels: alpaca, knitting, project spectrum, purchases, yarn
Jan 16, 2007
---
Rainy Greys
Apparently my life is getting a jump start on Project Spectrum. Today is horribly ugly outside, yucky and rainy. I hate it. Instead of knitting I spent my morning reading, then got on here when I should have been taking advantage of nap time to get some rest.
So, here are some things to make
me
you feel better. I bought some cute
flexible needles
for socks online. They're probably similar to Bryspun needles, which I love. I have some Bryspuns in size 2.5 US, but I don't think they make them any smaller. Besides, these come in purple. :) I considered buying them in blue, for Project Spectrum, but let's be realistic, I love purple. Brittany is going to replace the broken needle, already got a confirmation, which is good because I like the wooden DPNs. Still, I think I need something else because I know my size 1s get a LOT of usage. So, it won't hurt to have a backup.
Then I hopped out to the mailbox to (hopefully) get my KP yarn. Which I ordered awhile ago. Let me say that usually they are extremely prompt. I'm
assuming they have an influx of holiday orders to clear out and my stuff will get here soon enough. It was supposed to be in Charlotte on Friday, which means...yes soon. Anyways, what I
did
find was my Blue Flash yarn from
Cherry Blossom Fibers
. Some woman I got the Nermal yarn from. She has some gorgeous stuff there. I know, you've heard this rant/rave before. It's true. Check her out when you have some free
money
time. This yarn is perfect Project Spectrum yarn, and I'll be using it to make the
I Dreamed of Africa
pattern that
Suzanne
was meant for.
I forgot to mention that, after argument with DH, I felt the urge to rip something
apart! So, I frogged my
Cleaves
. Hey, I was going to anyway, they just weren't fitting right. Not that I've given up on the Cleaves thing entirely. I think I should just use a different yarn and maybe not so many stitches on the cowl. Good thing I noted the gauge before ripping though, it's a PERFECT fit for the Hug Shrug pattern. Been thinking about starting up on that this week. Although, I'll probably have to wind my balls by hand. :( Which means at least an hour sitting in bed alone...wait, I was going to do that anyway. lol I love socks but they can't be the only thing I've got going. Sometimes I need a mindless project.
Hm, I'm outta stuff to talk about. I think I'll go knit.
Labels: knitting, project spectrum, purchases, yarn
---
No Sleep Til Breakfast!
What? No, that's lying. I am totally going to sleep. We're not going to talk about how tired I am, or how Justin is already back from work and in bed, or how he had to kick me off the couch this morning.
We
will
talk about socks. I stopped working on the swap sock for now, at least until I can get a new set of DPNs. Don't wanna push my luck. Besides that, I'm awfully excited to finish both of my Harley Quinn socks. The first one has been blocked and I'm on the gusset of the second one. I got an entire set of the 16 row pattern repeat finished while waiting for my stupid old computer to load pages. Is that ridiculous or what? Good thing Justin got home kinda early.
Oh, let me detail the happenings of this past weekend. Alright, Friday I was
knitting
waiting at Pass and ID when this gentleman comes in. He asked me if I was knitting and if that was how you had to make a tube (referring to my DPNs). Thus began a lovely conversation about knitting, spinning, and Civil War reenacting. Until, of course, more people began to show. I believe he was a bit embarrassed to talk about it in front of "muggles"*. It was nice because I like to talk to people about my knitting, especially when they can share or understand. Later Friday night I went out with Tyler and some of his friends for his birthday. Which is today (meaning Monday) actually. To prove that I was a geek, despite the way I looked, I pulled out the socks that were currently OTN. hehe
Saturday was a lazy day. The argument over the computer was silly, what happened was this:
I was using the computer.
Justin needed it for "a second".
I handed it over, he does this for me countless times when I need to check patterns and things that I have stupidly not yet printed out.
He brought up the link to play WoW.
I freaked out.
He insists that his intentions were pure. I still have my doubts. Anyways, the needle was broken while I was in the middle of the heel flap! Ugh. Not that I didn't
know
it would happen. Actually, I had specifically switched my working needle with the fifth and unused needle because it felt too weak already. Which means, with one broken I had to substitute a needle of questionable strength. Blah. I'm hoping to finish these before Project Spectrum starts. Though I'm sure I will. Psht. I still have what, 15 days or so of the month left? That's two weeks. Yep, I've got this on lock. lol
Right now I am still staring at the IK subscription page. I have to ask hubby if I can at least buy the Winter 06 issue. Seriously. This is bad. Not like I don't have enough on my plate. Those
Old World Booties
would be perfect for Renfaires. I want to make a pair for each of the boys and for Mali's daughter.
Tomorrow I will print out the patterns I will be needing for the months of Feb/March. Other things I've been thinking about are: removing my whole KFYS thing and replacing it with a Enhance your Stash! button. Gotta use the paint or something on my old comp though. Maybe find someone with PS or Paint to make one? Not only am I giving up on knitting from my stash, but have decided to flash my (miniscule) stash with pride! I will still be using my stash as much as is possible, but I am happy with who I am. I'm a packrat, a stasher, a knitter who LOVES yarn. It's wonderful being me. More so, I'm focusing on trying new things than using my yarn. That should be my resolution regarding knitting, knit my first sweater, do colorwork, some lace, a shawl, more cables, new techniques...etc. You get the idea. Joining the
Sweater a Month KAL
. I could do this...couldn't I? No. Maybe. UGH! I dunno. But I probably have at least twelve sweater patterns I want to knit right now. Or what if I just try for one every two months? My raglan for Feb/March, Tubey for April/May (unless you want to count that lace cropped tee, but it says
tee
in the name), Would Mom's top count for June/July? Probably not. Okay, well Justin's for Aug/Sep. As my crowning acheivement I'd like to do that Spinal sweater thing (look on the sidebar okay) for Nov/Dec. Yes, I know that leaves out a month or two. October can be used to knit gifts or as a break. How about that chunky Eskimo pullover for June/July? It should knit up fast. And it will be ready for autumn and winter. If we have one next year.
*
I hate the use of this terminology to refer to people who are non-knitters/crafters. The people that do not understand that, just because I carry yarn and needles in my purse everywhere I go does NOT make me a dork. However, I cannot think of anything better to use. Let me know if you do?
Labels: ideas, KAL, life, planning, rambling, resolutions, socks
Jan 14, 2007
---
What Was I Saying?
Jan 12, 2007
---
I Can't Control It
I think we need an intervention here. NO MORE YARN! Seriously. We got paid yesterday. I've already bought several items. Most of which I don't need. Actually, I was upset because I had planned on buying that yarn for the cropped lace top much later as yellow is April/May. So why waste money on that now? However, I stupidly called to place the order, and the thing I wanted to order wasn't in stock, even though the site
says
it is. Instead I bought the Alpaca Cloud for the top. GUH! Also paid for something that I ordered awhile ago on Etsy from
Cherry Blossom Fibers
. Seriously, her yarn is beautiful.
Then I get into my thing about the colorwork and
Rachel
has to bring up the
We Call Them Pirates
patterns. Which I've been wanting to do...since I started knitting basically. They're having a KAL right now! *cries* I go peek at the yarn on
Webs
it's like...$12 to make the hat! What a STEAL! And the yarn is coated in Teflon people...TEFLON! That's so awesome. It rains like a PMSing woman with rapid-cycling bipolar disorder here. Which is to say, sporadically, often, and without warning.
Somehow, I see this ad for a Vogue knitting mag and wonder to myself "Is IK still on sale?". I pop in to check.
Look at it
, or if you are weak of will (as am I) avert your eyes! There are approximately three patterns on there I
cannot
live without, a couple I am feeling affection for, and a few that I could withstand not seeing. But, as most of you realize, it is those three patterns that I lust after that will cause me to beg and plead with dear hubby to buy me the sub. Yes, it's still on sale. Twenty dollars for a year. I...just...oh goodness.
Help. :)
Labels: purchases, rambling, yarn addict
---
Entreating Entrelac
*shrugs* Quick post. I'm sleepy. Still waiting on Justin. First thing:
I'm being mildly sneaky as this picture is probably not clear to most of you.
Rhonda
will understand it. :) More on that tomorrow.
Second thing:
I want to try some stranding/colorwork. Now, at first I wanted to knit
Red Herring
. But now, I'm thinking maybe...not so much. I'd need some more of my MC. Which, I don't want to have to buy.
Endpaper Mitts
sound lovely right now. My poor cold hands will thank me. I have poor circulation and my feet and hands are always cold. I'd meant to make a pair of Knucks, but got tired of knitting the same pattern over and over.
I dunno. It's late and I'm feeling slightly blah. Thanks for the comments. Leave some more to help me make up my mind.
Labels: decisions, pictures, progress, socks
Jan 11, 2007
---
To Further My Obsession
---
Delurking Week
Well, although I doubt any of you are actually "lurking" on my blog, it's
delurking week
. So I'll ask my question and encourage anyone who may be lurking to answer. Those of you who read regularly are expected to come up with a fun comment too. :)
Your obsession, outside of knitting/yarn?
Mine is the Cheshire Cat. Just...look: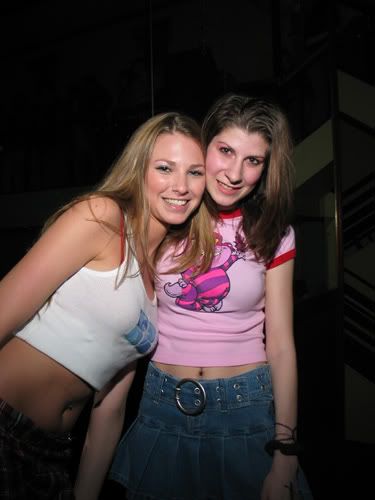 Over a year ago, while searching for images to get ideas for a cheshire cat based tatoo, I found
this
. So began the quest to knit. Yes. That's all for today.
Wait, no it's not. I forgot about this. It's completely finished now, fringe and all. I had seemed up the bottom (silly me! Forgot to do a provisional cast on.) and decided it looked awful. The fringe would hold it shut anyways. So I went back and ripped it out. On the plus side, I sat in bed for approximately half an hour trying to find the end that I had woven in. When I finally got frustrated enough I managed to locate a bit of the yarn in the actual seam. Told you I'm bad at seaming. Anyways, I crossed my fingers and cut! Good thing I was right. That would suck to ruin. Well, it's done now and will be mailed out tomorrow.
Labels: cheshire cat, obsessions, pictures
Jan 10, 2007
---
Do The Monkey!
The consesus is to use
Suzanne
to knit the
Monkey
socks. So, I will. It will probably be one of my first projects in February, since the yarn is SO absolutely beautiful. I think I have set some pretty crazy goals for ProjSpec. I'm going to do my first sweater, some
stranding/color-work
for the first time, and work with lace-weight yarn! Not to mention I seem to have a much larger project list than most people. Though, many people tell me I'm a fast knitter. I finished a pair of Knucks in four days, a sock in two (note: just one sock), and a tube top in a week. However, if it's something I just don't feel like doing, or that requires seaming, I can definitely take my time. Like, my mom's top. Or my Aunt's socks. How about that scarf for Secret Pal 8? Actually, that's nearly finished now.
See my little supermodel? lol She was too cute modelling for these pictures. I certainly hope that this is long enough! The fringe is alright looking. I wish I'd made it longer though. Oh well. After I get off here, and clean up, I will finish the fringe. Then, tomorrow probably, it's off to the post office! Gotta go get a new ID anyway.
It's funny, although I was told when I went to Nolan's doctor's appointment yesterday, I just really thought about my expired ID this morning. When I first got married, I was really unhappy about moving away and moreso about marrying a military man. Something I promised myself I'd NEVER do! So, when I would look at my ID the expiration date represented a sort of freedom. I couldn't wait for that day to come. Now it has come and gone, barely even a blip on the radar. Obviously, I knew we were going to re-sign before it happened. Still, it's odd how priorities shift.
That's enough of THAT nonsense. Anyways, I don't remember if I said anything about wanting to sell some hand-dyed yarn before. I think I did. What do you guys think? It's not going to be like...huge or anything. Not like, a full-time job. I don't expect to be as famous as Mama-E, Scout, or the Yarn Pirate. Just, make a little money to save up for a wheel and other things like that. Probably won't be buying any yarn until after we get our tax returns. But when I do, I think I'm going to
give out some samples to my dedicated readers (I know who you are!), let me know what kinds of colors you like, some that you don't really use much, some you absolutely hate. For some of you I kinda have an idea from reading your blogs and seeing the things you've done, but I also want to kinda...draw you out. Maybe encourage you to knit with colors that aren't your usual, but I don't want to go overboard.
Oh, I know that the picture is totally unrelated. But it's awfully cute.
Labels: babies, knitting, reflections, selling yarn
Jan 9, 2007
---
Blues
Guess I'm gearing up for ProjSpec already. lol Eh, it mostly has to do with a
certain monthly visitor. Which, I guess is payback for that month I skipped. But that's not what the blues are about. Not in this post. Look at those eyes. Him's a beautiful baby. :) I was never really into blue eyes, I prefer green, but this boy's got me hooked. Heck, they've ALL got me wrapped up in them.
Let me know if you can read the new layout. I've had some complaints, and I'd really rather not sacrifice readers for the sake of fashion. :P
While I'm talking about myself, my Suzanne yarn finally came in!!! It was beautiful online but, wow! My very breath was stolen, my heart beat did a jig, and my eyes lusted over this yarn. Seriously. I know, I feel like a blogging advertisement by now, but
Mama-e
is awesome. Beyond that, she's an artist. Now, my problem is...what to knit with it? Originally, I had planned to use it to make
I Dreamed of Africa
, however, now that I'm looking at it I think that I might use it for Monkey instead. What do you guys think?? I really need to know. Of course, I have to wait until February. Good thing there are other projects to keep me
sane
occupied.
Such as, the Harley Quinn sock. It's coming along lover-ly. I turned the heel last night. These are too cute, but I think I will need to buy more yarn. Which isn't
awful
, but unexpected. Running out of yarn depresses me.
And since I was A)getting bored and B)wanting to start the sock for my
swap partner
. Hopefully this is not supposed to be a huge secret. I'm bad at those. Besides...I have pictures! This yarn is similar to Beauregarde, if I had made her the Baudelaires we could have been sock twinsies! There are about, 5 of the 15 repeats I plan
on doing for the leg finished. Or two inches if you prefer. Either way, it's not really much progress. I attribute that to a lack of sleep. Justin got home about 1 am, and we went to bed after 2:30. He had homework, I decided to start making up the HP scarf I've been neglecting. Good thing I sent her a card and some chocolate! Chocolate makes up for anything. hehe The worst part will be doing the fringe. I've never done it and for some odd reason I
hate
knit adornments. Pom-poms are fun, but I make them all wrong and they don't poof properly. *sigh* I'm worried I'll screw up the fringe too!
Here, have a gratuitous baby pic, always seems to cheer me up.
Better? Yes, me too.
I'm going to take a picture of all my purple socks and purple sock yarn together. This should be fun. It's almost ridiculous. Considering that I've only knit a total of 8 (complete) pairs of socks thus far. Lolly started a Green Sock KAL, but well, I don't have any green socks! And only one pair of green socks planned. However, I'm waiting til April. Honest. I am. Watch me.
I just suck at this KFYS thing don't I? Ah, whatever. :P
Labels: babies, pictures, project spectrum, sleep, socks
Jan 8, 2007
---
I Wish it Was Raining
Oh wait, it is! lol Sorry, been glued to my Start Static CD lately. I randomly woke up with one of the songs in my head a couple days ago and popped it in. I get in these moods and will listen to the same CD for weeks. Sick, isn't it?
Anyways, I have lots of pictures for you! Where should I begin? Um...let's see, how about what's in progress? The Harley Quinn socks are coming along nicely. This is what I've decided to call them, after the Joker's lil assistant/girlfriend in the animated series that I watched when I was growing up. Even though it is really starting to remind of an ice cream cone. The pattern I'm using on the top of the sock makes it look like a waffle cone. lol
The yarn for my swap sock came in today!! Hooray! As did another surprise.
I'd tell you what but, that would ruin it. Actually, I took a picture to give you a clue, but it came out all fuzzy, and I don't feel like taking anymore. lol Nice, aren't I? Except, it feels kinda like a small gift. Part of me wants to send yarn along with it, but I can't afford that right now. *sigh* Which is depressing because I really wanted to grab a spot in Mama-E's Project Spectrum Sock Club, except the price is comparable to a week of tuition for Heather!! Bleh. Oh well. I'll make due.
My mommy also sent me pics of her modelling the socks, AND an overdue pic of my brother's Knucks. Yeah, the ones I gave him for his birthday. In October. hehe Anyways, I'm pimping him out on my blog. Click the pic to see a close up of the knucks themselves. I'm still mad at him though. We'll talk about it later.
For now, I'm adding this
to my list of things I want to do. For March or April. Hm. Maybe in a
pale yellow
? Yeah, that'd be freaking gorgeous. That way I can make an excuse to work yellow into my wardrobe, and my Project Spectrum list. Plus, using KP will save me tons of money. Besides, there is way more yardage. I would only need like 2 or 3 skeins, and the leftover can be used to make a lacy scarf or something. That'd be...like $12. Not bad I think. AND if I use the Alpaca Cloud as desired, it will qualify for the Alpaca along too. Which is up by the way. Then I'll have three projects for the Alpaca along. :)
Speaking of lace, did I mention that I have decided to buy some from the LYS and dye that? I'm hoping to acheive something similar to that Lorna's Laces I wanted. That would be lovely. Also, planning some fun little ProjSpec things. June and July are gonna be FUN!
Oh, you might notice I organized my to do list. Obviously, I was bored MAJOR yesterday. Since it was Monday in night crew land. Didn't I tell you? Night crew lives in an alternate dimension where Sunday is Monday. On the plus side, that means Thursday is Friday! WOOT!
*gratuitous sock pic*
Labels: alpaca, KAL, knitting, knucks, life, pictures, project spectrum, socks, yarn
Jan 7, 2007
---
So Bored
Okay, so...um after organizing my stash for ProjSpec, I only have 3 (4 if you count the slipper socks) things to work on until February. However, I did get some of the awesome yarn I ordered in!! It's
Cherry Blossom Fibers
in Nermal. AND it works out well for Feb/March. The Kindred Spirits Yarn hasn't come in yet though, that's what I need so that I can start the socks for my
swap partner
. I want those done before ProjSpec gets started. Not that I really think that will cause me a huge problem. lol
I'm so tired. No idea why. My schedule is still off I think.
My in shop KAL sock is coming along beautifully. I finally found the perfect
pattern for the top of the sock! I love the way the colors look together too, it makes me think of ice cream cones for some reason. Right now I'm kind of at a stand still, I'm just not sure if I need to tink or not. I have 5 inches done, and she says to knit til half the length of your foot. Mine is about 9.75" long. So...I think I need to tink. I just can't find out how many rows are in the heel, if I could figure that out I would know if I'm okay or not. Maybe I'll just do the heel I'm used to doing, with a flap, especially because I've been told that narrow feet tend to work better when there is a heel flap.
Labels: life, pictures, sleep, socks, yarn